Intermediate Italian (B1-B2)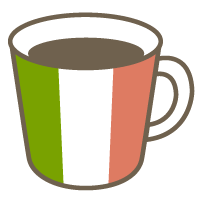 Italian

Grammar

Vocabulary

Speaking
Express your opinions, ideas and dreams... in Italian!
Perfect for those who:
★ are already familiar with everyday speech
★ have studied Italian in the past and would like to learn more
★ have already taken my course "Italian for beginners (from A1 to A2)"

This course will give you the opportunity to express better your personal thoughts, aims and opinions. In other words you will be able to be yourself in Italian and let others understand who you are. I can't wait to get to know you! :)

Our main goals:
★ To describe experiences and talk about familiar topics
★ To express one's opinions and ambitions
★ To explain, justify and make suppositions
★ To write formal texts

We will study together:
☆ Formal language
☆ Verbs conjugation (pluperfect, preterite, conditional, subjunctive)
☆ Combined and relative pronouns
(etc.)

Note: Let's choose together our materials! Do you already own an Italian textbook? Do you wish to study with a specific book? Maybe the one you used in your previous course? Let's decide together! The books I prefer for intermediate level are Nuovo Espresso 3 and Nuovo Espresso 4. Or...
*Custom lessons available*
What does this mean?
My strong point is that I offer completely original lessons created by me, based on non-didactic texts, audio and video files, which I personally rearrange and correct, providing a set of excercises aimed at fixing the idiomatic and grammatical forms encountered during the lesson. It could be a blog post, a video tutorial, a song, a movie clip... literally anything! I make a ion based on my student's interests and needs but of course you can also make a request of a specific text or topic. It's a very fun and effective learning method so I suggest you try it asap! :)
Lessons offered by this tutor
Feedback from students
パオラ先生のレッスンを始めて受けました。代名詞の使い方をリクエストしたので、文法メインになるかと予想しましたが、聞き取りあり、文法説明あり、と盛りだくさんな内容でした。改めて、聞き取りも、会話も、もっと勉強したいと思ったレッスンでした。

パオラ先生は明るくてお可愛らしく、楽しいレッスンを受けることができます。日本語が堪能なのでわからないことは日本語で聞けて、今までモヤモヤしてたことがクリアにわかってきました。レッスンのあとすぐに内容を整理したフィードバックを送ってくださるのがとても役にたつし、お気持ちを感じられて嬉しいです。これからもよろしくお願いいたします。

初めてレッスンを受講しました。明るくて優しい印象で、かつプロフェッショナルな対応でした。とても話しやすく、リラックスして話すことが出来ました。ビデオを使ったオリジナルレッスンで、聴き取り練習をし、単語やよく使われるフレーズを教えていただき、宿題も出してくれました。熱意のある若い先生なので、楽しく気軽に受けられると思います。また受講したいと思います。

教材を使いながらレッスンを受けましたが、とても楽しく丁寧に教えてくださいます。まさにマンツーマンでしっかり勉強できるところが気に入りました。普段イタリア語を話す機会がないので、おぼつかないのですが、日本語もわかる先生なので心強いです。

とっても優しくて、柔らかな対応をしてくださる先生で、安心してお話できました。レッスンもこちらの要望やレヴェルに合わせて考えてくださるようですので、嬉しいです!